Products (For Sale)
High quality ties, cufflinks and brooches featuring the WASPaLM emblem are still available.
Ties feature the WASPaLM logo elegantly reproduced on either maroon or navy blue background.
Cufflinks and brooches feature the same logo in blue and gold.
Prices are as follows: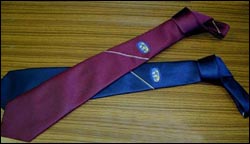 Ties
US $20.00 each
*Please specify maroon or navy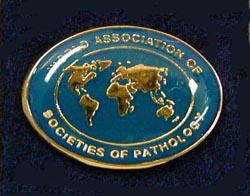 Brooches
US $10.00 each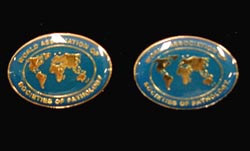 Cuff links
US $20.00 each pair
Please send your orders to:
The WASPaLM Administrative Office
c/o Japanese Society of Laboratory Medicine (JSLM)
5F Takahashi building 1-7-1
Sarugakucho Chiyoda-ku, Tokyo, 101-0064
JAPAN
TEL: (81)-3-3295-0351v FAX : (81)-3-3295-0353
E-mail: waspalm@jscp.org
Executive Director - Prof. Naoto Shimetani
Announcement of New Products by Corporate Sponsors
As a service to our corporate sponsors, new products may be announced in this section. World Association of Societies of Pathology and Laboratory Medicine evaluation, recommendation, or endorsement is not inferred.